Waltrip High School


Class Of 1965
In Memory
Ray Montgomery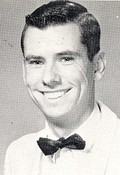 In loving memory of our dear classmate
RAY GLOVER MONTGOMERY, JR , 67, born March 11, 1946, went to be with the Lord on May 20, 2013. A native Houstonian, he was the son of Ruby and Ray Montgomery, Sr. He is survived by the love of his life, wife, Barbara "Bobbie" Montgomery, daughter Juliana Gibbs and husband Richard, daughter Lisa Marshall and husband Troy, daughter Jennifer Bimeler and husband Kevin, and 10 grandchildren, Alyssa, Ryan, Ashley, Nicole, Colten, Jacob, Blake, Nicholas, Ashton, and Natalie. He is also survived by his brother Bill Montgomery and sister Barbara Sutton, along with a huge host of family and friends.
Ray spent his 45 year career in the Camp/Workforce Housing Industry, traveling to over 60 countries around the world. His name is very well known by many people in this field, where his talents will be greatly missed. He will be especially remembered by those he truly blessed with the beautiful sounds of his trumpet playing in churches and symphonies. Ray was a devoted husband, father and grandfather, a very loving and giving person, always wanting to help others with his time and generosity. His favorite past times included playing fast pitch softball, fishing, "cruising" with his family and friends, and watching his grandchildren play baseball and other sports activities.
Visitation will be held on Thursday, May 23 for family 4-6 pm and friends 6-8:30 pm at Klein Funeral Home Cy-fair 9710 Wortham Blvd., Houston, TX 77065. A Celebration of Ray's life will be held at 11 AM on Friday, May 24, 2013 at Faith Assembly Church 7755 Fairbanks N. Houston, Houston, TX 77040. Interment will follow at Woodlawn Cemetery. Family and friends are invited to a reception following the ceremonies at Faith Assembly Church.
In lieu of flowers, donations may be directed to: Cypress Christian School Baseball Program (281-664-0202) or the Fairfield Sports Association (281-513-4869).
Published in Houston Chronicle from May 22 to May 23, 2013